"Over 150 Dog Breeds"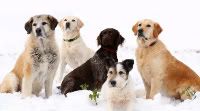 Dog Breed Information and Images
If you're looking for a new dog or puppy and information on how to care for them, the Dog Breed Center provides highly detailed information that will assist you in your choice.
Alphabetical Listing of Dog Breeds
The Dog Breed Center provides an A to Z list of AKC approved dog breeds along with pictures and information of each breed of dog including:
Available colors
Coat type
Health issues
Origin
Personality
Size
Temperament
Dog Breeds by Group:
You can also find the dog your looking for by searching our directory of dog breeds by group.
Click on the above links or use the navigation on the left to move easily through our directories of breeds of dogs.
We also provide a K9-Bits Newsletter, at no cost, full of tips to help you find the perfect dog match and to learn how to care for the breed you've chosen.